Commercial, Home & Gun Safe Moving in New York | Sherlocks Safes
Home & Commercial Safe Movers – Doing it the Right Way
With over 10 years of industry experience, Sherlocks Safes are the experts when it comes to safe moving in New York City. Our experienced and trained locksmiths can transport your safes to your house or office. For a free consultation on our moving services, give us a call! We are available at all times.
Safe Moving with Sherlocks Safes
Sherlocks Safes has the skills and equipment, and experience to effectively transport and install safes. Moving a safe can be challenging and even risky. Whether it's a straightforward installation into a garage or a difficult delivery across an indoor marble or hardwood floor, up the stairs, or through narrow ways, each job has its own requirements. We can move it safely with caution. After all, skill is more important than strength when moving a safe.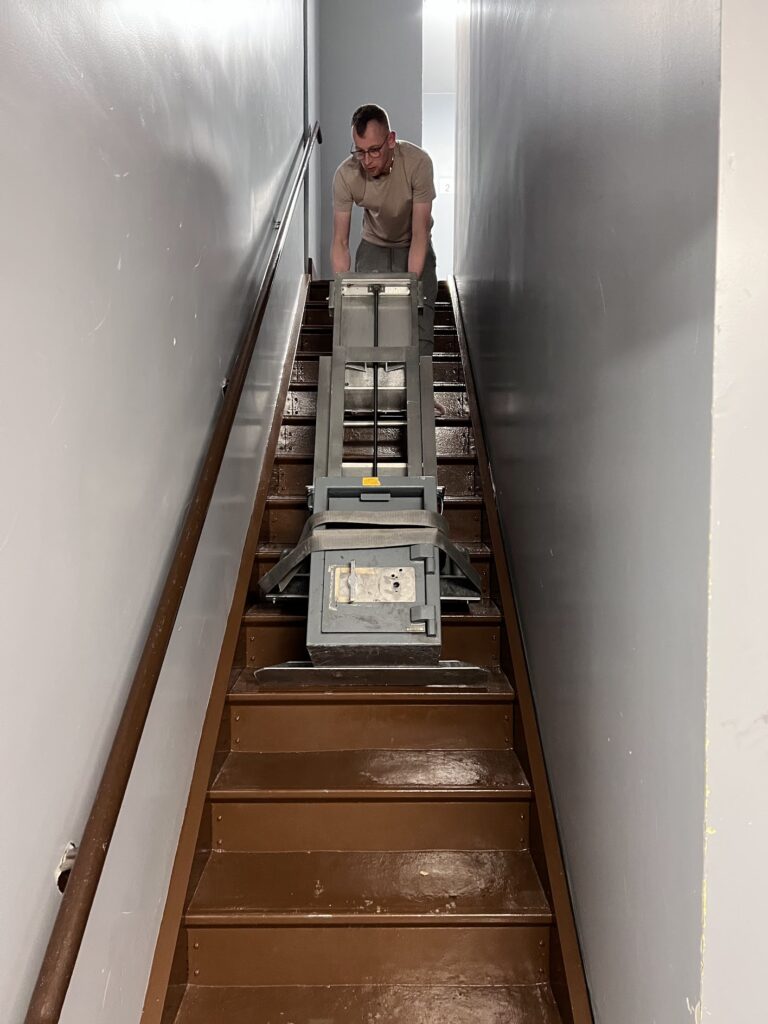 Advantages of hiring Sherlocks Safes Professionals
       

We have the necessary experience, safe moving equipment, and skills to move your safe

       

We respect our clients' privacy, which is why none of our transport vehicles are marked.

       

Our locksmiths and transporters are completely insured.

       

We provide a free consultation to all our customers
Call the experts; make use of Sherlocks Safes services instead of taking risky chances. Contact us if you need assistance with moving your safe.
Why Do You Need a Safe in New York?
It is critical to protect your possessions from potential risks and threats. Safes provide the exact level of protection that you require. You can put them in walls, keep them underground, or use them as a standalone safe. Safes are becoming increasingly popular since they protect your valuables from robbery attempts, as well as damage due to fires, moisture, and other natural catastrophes.
There are a variety of locks available, including a combination lock, electronic keypad, biometric, and key lock. But even so, there are chances of losing the key to your safe or forgetting the combination or code. Here's where our repair service can help. We'll open your safe for you so you can get to your belongings.
The fact that your safe stays entirely secure before and after our safe repair services set us apart from other repair services. We transport, move, repair, and open the safe without damaging or harming it, preserving its longevity and durability in the long run. This way, you can go on using your safe without worrying about compromised security.
All of our locksmiths go through a comprehensive and stringent background check, so have peace of mind while they work on your safe with your valuables inside. Your safety is our top priority, and we work hard to maintain a trusting relationship. Safe moving in New York City is one of our skill as Safe Locksmith Experts.
There can be a number of reasons that one might want to move a safe:
       

Buying a new safe and moving it to your office or home

       

Relocating to a different building or house

       

Moving it within the building or house for security purposes

       

Disposing of an old safe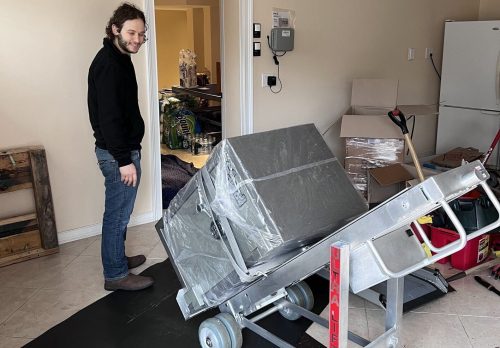 Things to Consider with Safe Moving in New York City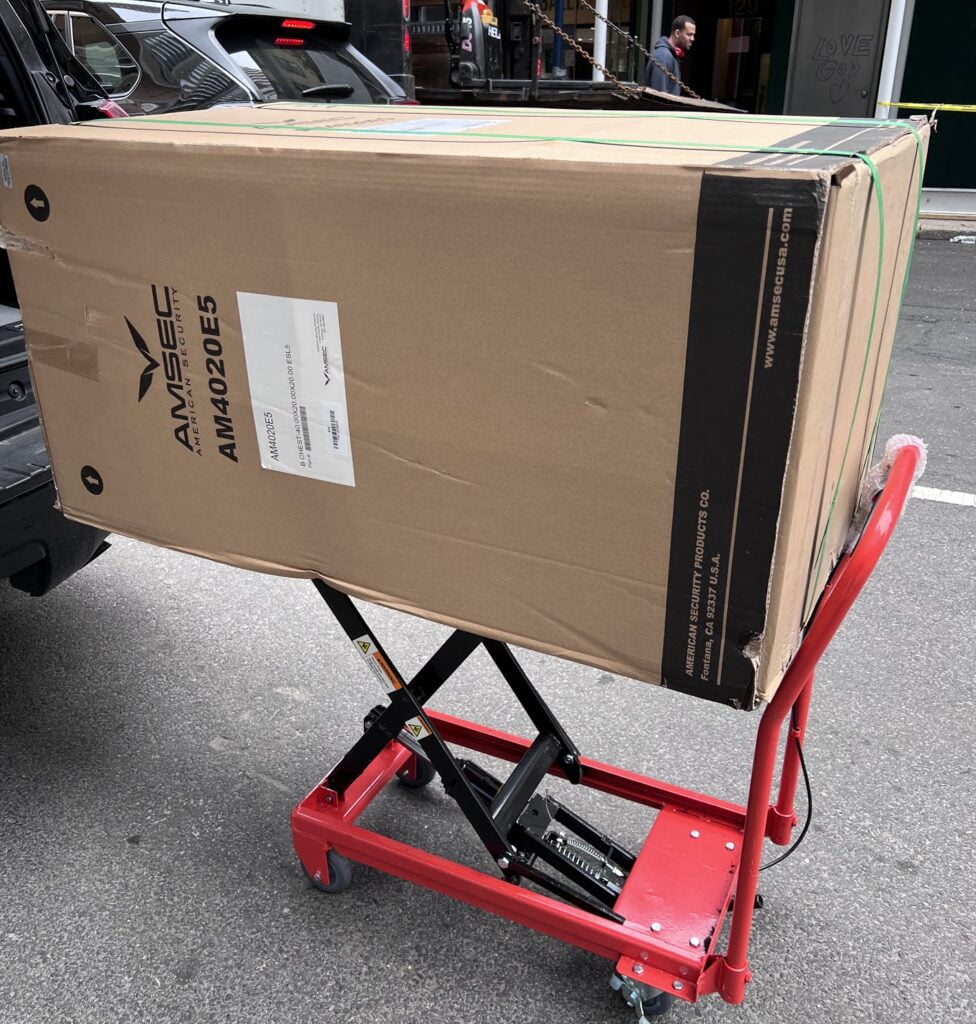 At Sherlocks Safes, we have trained experts who move the safe to your location. Safe transportation is different from moving the safe, so there are a few things to consider before you opt for the service. We analyze the following things before planning on safe moving in New York:
       

Budget

       

Installation

       

Transportation method

       

Distance

       

Safe Type

       

Type of Property

       

Safety

       

Weight
Every property is different, and its location has different types of obstacles and surfaces to cover. All of these things need consideration. We have to analyze the property so that we can prepare accordingly. For example, one property could have a wide elevator, making it easier to take a safe on the highest floor, but some buildings may require transporters to take a safe through the stairs. Taking a 1000-pound safe up the stairs is not easy, but we can get the job done with the right equipment. A stair-climber is what we need in this situation. It is custom-built and carefully transports a safe upstairs.
Another big challenge is the type of surface that the movers might have to face. Old wooden stairs are different from steel-based ones. This also requires a lot of expert analysis, after which one can make informed decisions.
Moreover, when moving a safe from one home to the next, residents want it in a snug location. To ensure a proper fit, our experts take all the necessary measures to check whether the safe would fit or not. Sherlocks Safes ensure that your safe fits snugly in your desired location, but if it doesn't, we help you find alternative options for a much more secure movement.
Get a free consultation to find out the type of property you having for safe moving in New York.
Initially, our team analyzes whether the surface of your house or office area will be able to hold the weight of the safe. You cannot buy a solid TL-30 safe just because you like it. Several factors need consideration.
The price of the safe also depends on its weight. It's possible to buy a lighter safe with the same security level. An important thing to know is that our experts have training in moving safes from our workshop to your place. We have the right knowledge, tools, and equipment to carefully transport your safe.
Safes That We Can Move and Relocate
Sherlocks has extensive expertise in moving different types of safes. There are many different sorts of safes that you can pick from. There is a wide selection available, from commercial to home safes. Before purchasing a safe, it is critical to think about its features as it assists experts in moving the safe. We can move standalone, wall, and floor safes.
There are multiple types of safes that we can move or relocate.
Safes on the floor are preferable as opposed to the wall and standalone safes. They are easy to conceal with a rug and don't take up much room either.
We can move wall safes in any place, such as the office or home. In most cases, homeowners opt to install standard wall safes in storage or guest rooms where it's difficult to access them. It is much easier to disguise the safe using furniture, doors, or cabinets. If you don't use the safe frequently, you can mount it high on the wall.
Standalone safes come in both light and heavy weight. For heavy standalone safes, we use heavy-weight equipment to transport and move them. Burglary and fire ratings are also available for standalone safes. Their weight advantage makes them pricey, and they are enormous as well.
Some common safes that we move are:
Quality Safe Moving in New York Service
If you do it on your own and without any help, there is a high chance that you can end up damaging the safe. It is not an easy task and requires professional tools and equipment to do so. A heavy safe is also expensive, so you will harm it if you don't move it properly. On the right, you'll see the safe moving Stairclimber (made by Ultralift) we use for transporting safes up and down stairs 
Transporting the Safe in New York City
The first step in moving the safe to its place is transporting it. We have unmarked vehicles, including box trucks and large pickups, allowing us to operate discreetly. Our trucks and pickups have a maximum payload, making it easier for us to transport a heavy safe. We also use trailers as they are more suitable to load and unload safes. They can also tilt to the ground, facilitating the load.
We use heavy equipment to move and position a safe during transportation and moving. We also use a lift-gate to load and unload the safe from our store to its final destination and vice versa.
To avoid carrying a safe on a rough surface, we have safes with a pallet on the bottom. We also carry thick 6061 T6 aluminum plates to smoothen out the floor surface. We use 2×4 wood pieces to safeguard the track. This helps secure the doors and tracks, which prevents further damage.
The pallet jack and pallet knife are great tools for this purpose. It is a fork-lifting tool that moves and lifts the pallets when needed. Sherlocks Safes also has a hand truck tool that helps move the safe up the stairs. A dolly with four wheels is the perfect partner for a hand truck. It can carry a lot of weight and can rotate as well.
A safe is essential to safeguard your valuable possessions, but the first step requires that you move the safe to your home securely. Safes can easily weigh more than 2000lbs, which is very heavy to move around. For that, you need to analyze the destination area and take precautions when moving.
Safe Ways to Move a Safe in New York
Call Us – Safe Moving by Sherlocks Safes
Sherlocks Safes across New York City provides safe locksmith services. We have experienced professionals who offer secure safe moving in New York services. You can contact us for advice or a free consultation session. You can also call us for Safe Locksmith Services.