A Locksmith for Safe Drill & Repair (Without Damaging Your Safe)
The opening experts at Sherlocks Locksmith have multiple years of experience providing the best safety services. We use high-powered drills to open the safe without doing any damages. We make sure that you don't have to wait long enough to access your safe. Call us now to get our services!
Safe Opening by Drilling and Repairing
Many people who own safes do not know the difference between just "opening the safe" and opening it for later use. They don't know that the safe is still useable, similar to before we opened it. Some safe owners also think that the process of opening the safe will damage it, which is true only if you hire an inexperienced locksmith.
Our locksmiths at Sherlock are very competent and experienced. As the professionals continue to work, your safety is in good hands. Get in touch with us for safe opening drilling and repairing services in NYC.
Contact Us for Safe Opening services
Why Is It Important To Have A Safe?
One of the biggest benefits of installing a safe is the additional security you get. Your valuables will be safe, and your mind will no longer worry about them. You will easily access your valuables, which will be safe even during an attempted break-in.
A safe protects confidential documents, cash, jewelry, family heirlooms, personal papers, and other possessions from thieves and burglars. A safe also protects them from fires or other natural disasters. You can also store external drives and USBs that hold important data.
Some items, like handguns, should not be in a child's reach. Your licensed weapon should not be lying in the open but stored away in the safe so that it does not pose a threat to anyone.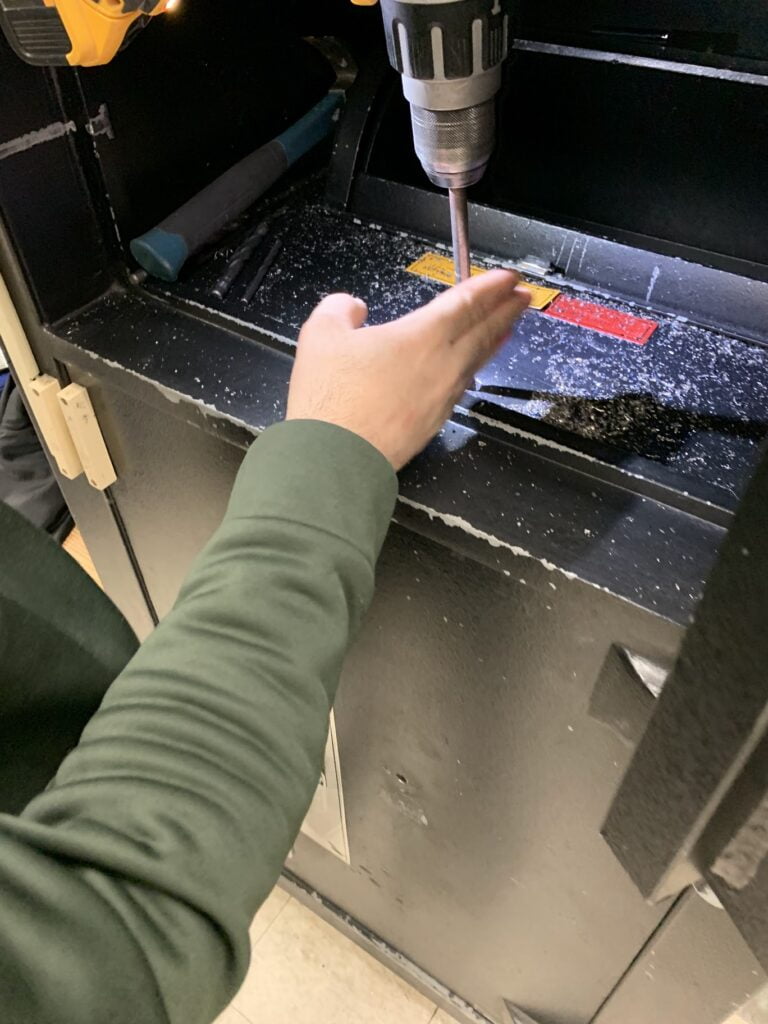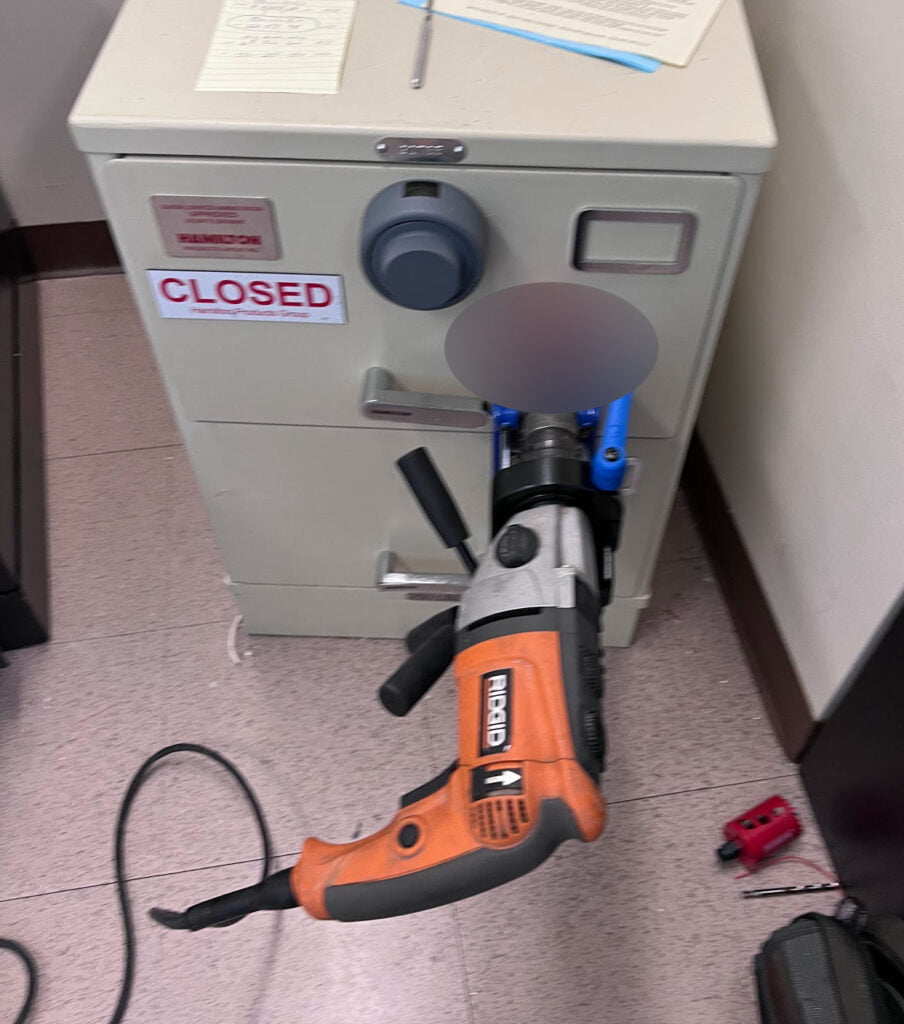 Experts in Safe Manipulation, Cracking, Drilling, and Repair
Safes have a very solid build. They have a thick cobalt plate present between the wall and the door. The manufacturers do this to stop or slow down the drilling process. Drilling the safe is not the work of an inexperienced technician. We not only excel in drilling and repairing but also in cracking and manipulating the safe without damaging it. Our aim is not to destroy or damage the safe but also to make it usable afterward.
The Safe Drilling Process
Most safe technicians use this method to open the safe door. It is important to drill into the main part of the lock to stop functioning. The locksmith should know about how the lock's mechanism works so that they drill into the correct place.
Every safe lock is different; hence it is essential that the locksmith first analyze its mechanics and then drill on the spot. A lot of safe manufacturers also place barriers that resist drilling. This requires them to work with special gear to penetrate the safe door. As long as the locksmith has ample experience and knowledge of how to drill correctly, they can easily open a safe and cover the drill holes.
An inexperienced locksmith with poor equipment can damage the safe while drilling. They will also not know that they can repair the safe to make it usable. We have also worked with many safes those inexperienced technicians have already drilled poorly. They will usually leave the process without finishing since they could not open it. This increases in service price since the damage has already happened. Most people do not mention that the safe was badly touched already. Make sure to mention that so that our locksmiths can work on it accordingly.
There are two ways to drill the safe:
We are repairing a safe after the drilling process is very important. Our locksmiths ensure that they leave the safe in a good and usable position. Our repair work ensures that we leave no evidence of repairs. Safe repair carbine putty is one of the solutions that we use to repair the safe. It hardens within a few minutes and permanently repairs the safe by covering the drill holes. We also place ball bearings in the holes before applying the putty. This further solidifies the safe. Carbinex putty has a carbide compound in it which makes it stronger than welding. When we apply carbinex, it starts to harden instantly, solidifying completely within an hour.
Other Sherlocks Locksmith Services in NYC
Lock Manipulation
Lock manipulation is the technical term for the process of opening a locked safe without drilling or harming it in any way. This method is ideal because it only requires a few instruments. It is by far the most discreet technique to open a safe. It does, however, necessitate a great deal of patience. It necessitates a thorough understanding of the mechanical operations of locks in all types of safes.
Safe Lock Change
Safe unlocking, lock replacement, and combination changing and repair are all skills that our locksmiths have. Changing your safe's combination lock is a simple approach to increasing security. Replace the lock and combination when someone with access to the safe leaves your firm for whatever reason. It's a quick, simple, and low-cost procedure that only takes a few minutes. We are distinct from other locksmiths in that we do not break the lock while repairing your safe. We use the safe again, this time with confidence, to open it using the safe opening procedure.
Safe Installation
We provide installation and repair services 24 hours a day, seven days a week. We can also help you with the installation of floor and wall safes, as well as the search for a stand-alone safe that fulfills your requirements. Sherlocks Locksmith specializes in residential and business safe installation, maintenance, opening, and customization. We're only a phone call away from being of assistance.
Safe Opening
Our safe opening techniques make us different from other locksmith services. We won't force you to buy a new safe after we've finished working on yours. You can use the same one when we repair it. It will be just as secure as before the repairs and opening. We have experienced locksmiths, readily available 24 hours a day and seven days a week to perform complete safe services.
Offering Drilling and Repair Services in All Kinds of Safes
To ensure that you receive the best service possible, we use the most up-to-date tools. We know how important security is to you, and we work hard to ensure that it is not affected. Our locksmiths provide exceptional service, allowing you to feel confident in the safe's security.
Our team in New York has a high response rate. Their professionalism keeps everyone involved, even for something as basic as safe drilling. We also know that security is at risk in the event of an emergency. Our emergency services are available seven days a week, 24 hours a day, and we can secure the change in less than an hour.
We drill and repair the following safes:
        Business Safes
        Depository Safes
        Fire Safes
        Gun Safes
        Home Safes
        Burglary Safes
Replace your safe lock when it becomes jammed, cracked, loose, or malfunctions. You never know when a burglary attempt will take place, jeopardizing all of your valuables in the safe. Safes are one of the primary targets for thieves who go after the most valuable stuff. As a result, you risk losing your goods if you haven't had repairs to your safe.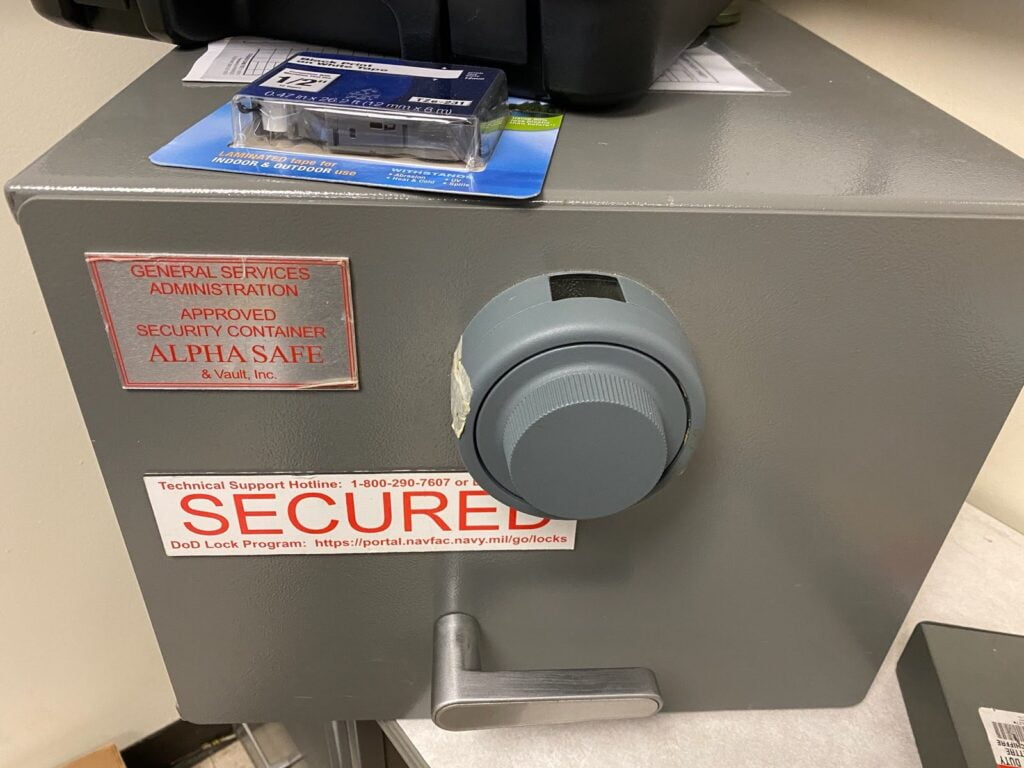 Why Choose Sherlocks Locksmith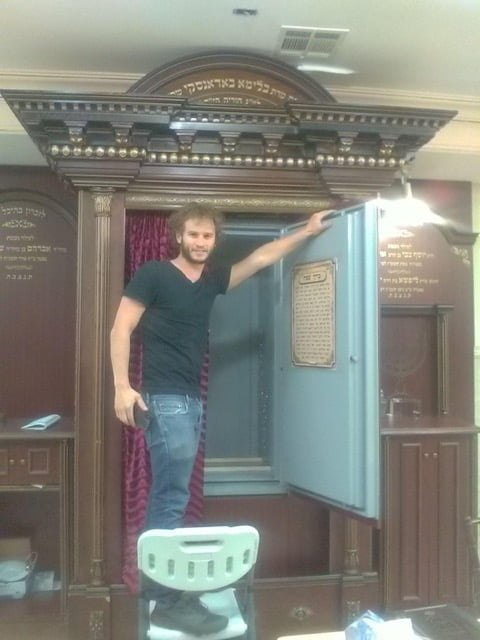 We are an experienced staff of locksmiths operating in New York City. Our service is available 24/7 all across New York City. We value your valuables and look forward to providing our services to ensure your safety.