Business Safe Opening Service in New York
Looking for a way to open your business safe without damaging it? Call us right away! We have more than a decade's worth of experience as Business Safe Locksmiths in New York City. Get in touch for a free consultation or to book an appointment.
Business Safe Opening by Sherlocks Locksmith, NYC
Sherlocks Locksmith excels in providing business safe opening services throughout New York City. We have an impressive response and return rate, and we regularly work with a consistent number of businesses.
Before working on a business safe, a locksmith must assess the situation. Often, the situation is not as bad as it appears, and they can open the safe with their hands alone. In other cases, locksmiths have to use a drill. A certified locksmith can ensure a safe drilling process without damaging the safe. In addition, they leave no evidence of the safe going through repairs.
What sets us apart from other locksmiths is that we can open business safes using an effective Safe Opening procedure. This way, you don't have to worry about purchasing a new safe once we open it. After the process, you can use the same business safe with guaranteed security. It will be as safe as it was before it needed repairs.
Contact Sherlocks Locksmith
Why Should You Have a Business Safe?
It takes a lot of effort to run a business. You need to keep numerous contracts and documents secure. It's also possible that you'll require a lot of cash on a daily basis, and having it out in the open can be quite risky. Lucky for you, Sherlocks Locksmith Business Safes store cash, keys, bank checks, deposit slips, receipts, USB drives, and other important papers.
Business Safes provide protection from burglaries, thefts, fires, floods, and other natural disasters. A business safe keeps all of your company's valuables safe. You can put it on a wall, under the floor, or somewhere hidden as a standalone safe. This will help you work in peace, knowing that your company's valuables are safe and sound in a secure location.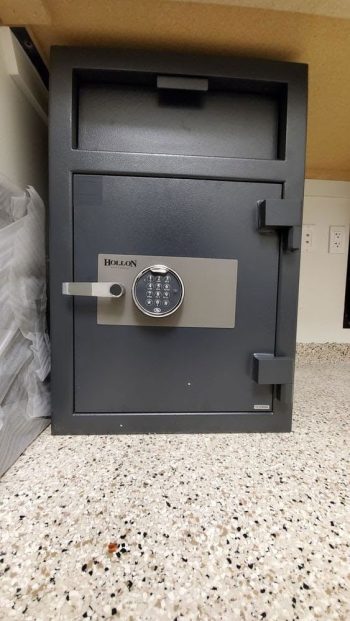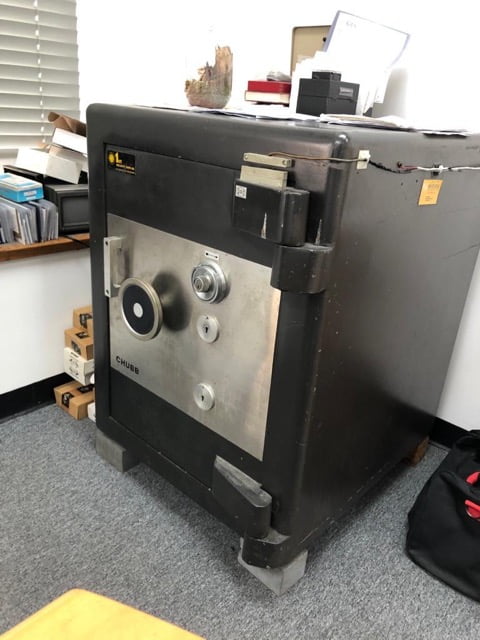 Advantages of Having a Business Safe
You spend years establishing a company, and if you aren't careful, numerous factors can sabotage your success. It is critical to plan ahead of time and get a Sherlocks Locksmith business safe. Here are a few reasons to have a business safe:
Emergency Business Safe Opening
A large business does not just have one safe, but multiple ones. Some of them are old and some recently bought. If the safes don't undergo regular maintenance, they can get jammed, or their internal mechanisms might fail. In this situation, it is better to call a locksmith so that your business does not suffer due to any delays.
Professional locksmiths at Sherlocks work well under pressure. We understand the urgency and importance of time. We work on combination dials, electronic keypads, timers, and other locks on a safe. This is quite a common emergency in large companies, so do not hesitate to call us. Our locksmiths can reach your destination in record time.
Emergencies demand great focus under immense pressure. Our skillful locksmiths carefully complete the process without causing any damage to the safe. Some of the methods we use include:
Scoping
Drilling a tiny hole in the business safe is another method we use. After forming the hole, we enter a very small camera called a scope inside the safe. After the process, we cover the hole with hardened carbide, so your safe doesn't show any signs of undergoing repairs.
Electric Current
We use this method on upgraded electronic locks. Those locks have electronic keypads, which sometimes might have a detached or damaged wire. Our locksmith penetrates and activates the motherboard inside the safe so when the current hits, the safe lock opens on its own.
Combination Manipulation
This is a traditional method of opening a safe and has been in use for ages. The locksmith uses a device called a safe-cracking amplifier (AMP). They listen to the sound of internal mechanics and open the lock relying on the sound. With more advanced techniques available, this method is now less used.
Wrong Methods of Opening a Business Safe
There can be situations when you are desperate to open the safe, but instead, you end up damaging it. No matter what, avoid trying to open the business safe yourself because there are high chances of it going to waste and being of no use anymore.
       

Do not grind the lock

       

Do not break the handle

       

Do not use a sledgehammer or any other heavy object to hit it

       

Do not cut off the side hinges
              Call Sherlocks Locksmith to help you out!
Why Should You Hire a Business Safe Opening Locksmith?
Having a safe is a big responsibility, especially in a large business. You should never resort to performing safe opening techniques if you are not experienced. The chances are that you will end up damaging the safe instead of recovering it. Call a professional locksmith whenever your safe is causing trouble, and you need instant use of it. Here are some of the reasons why you should call an expert to open your business safe:
Questions to Ask Before Hiring a Locksmith
Never hesitate to ask questions. After all, your business should never compromise on services that can impact your business' security. This is why we conduct a thorough background check on our employees. Our experience and customer response rate show that our professionals have relationships with large businesses.
If it is your first time hiring a locksmith, here is a list of questions that you should ask before you hire them:
       

Do you have any certifications to show?

       

Do you have any other client references?

       

Are you insured or licensed?

       

Do you conduct background checks on your employees?

       

How do I verify your employee when they arrive?

       

What is your safe opening method?

       

Will my safes get damaged during the opening process?

       

Have you previously worked with my specific safe model or brand?

       

Do you charge hourly or have a fixed rate?
·         Will you perform other services on the same day or make further visits to complete the task?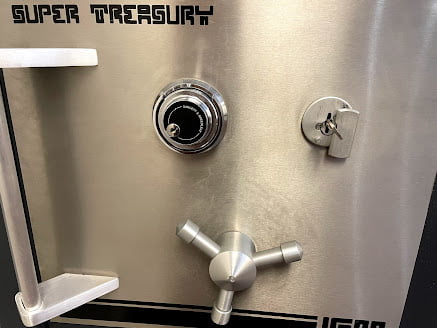 Other Sherlocks Locksmith Services in NYC
Safe Opening is one of the services Sherlocks Locksmith provides. Besides business safe opening, you can get other services as well.
Safe Service
Repeated usage, atmospheric exposure, and many other factors can cause a safe's condition to deteriorate. This affects a safe's ability to keep valuables secure. In these situations, it's vital to have a professional locksmith restore the safe to its previous working state. Our trustworthy locksmiths can supply you with high-quality safe-repair services that can manage any type of damage.

If you cannot open or repair your safe using traditional methods, we can help you. With enough force, you can unlock the safe, but this will impair its usefulness in the long run. Lucky for you, we can open the safe securely, utilizing our technical abilities and professional tools without causing any damage to the contents.
Safe Installation
We provide installation and repair services 24 hours a day, seven days a week. We can also help you install floor and wall safes and locate a standalone safe that matches your requirements. Here at Sherlocks Locksmith, we specialize in installing, repairing, opening, and customizing home and business safes. If you never need our services, we are only a phone call away.
Safe Lock Change
Safe unlocking, lock replacement, and combination changing and repair are all areas where our locksmiths excel. Changing your safe's combination lock is a simple approach to boost security. When someone with access to the safe leaves your organization for any reason, you should replace the lock and combination. It's a quick, simple, and low-cost procedure that only takes a few minutes. When we repair your safe, we don't destroy the lock, which sets us apart from inexperienced locksmiths. We follow effective safe opening methods so you can use your business safe with confidence. Give us a call, and we'll be there in no time!
Call Us for a Business Safe Opening Now!
Consider investing in Sherlocks Locksmith's business safes opening service. Our customer support representatives are accessible 24 hours a day, seven days a week, to address any queries you may have. We promise that your investment in our business safes will pay off.